NorthStar NSB-AGM-34/78
Volts

12v

BCI Group Number

34/78

Height with Terminal in. (mm)

7.76" (197mm)

Width in. (mm)

7.01" (178mm)

Length in. (mm)

10.9" (276mm)

Weight lbs (kg)

50 lbs (22.6 kg)

Terminal Configuration

Side

CRANKING AMPS
Pulse Cranking Amps

1,500 Amps

CA/MCA at 32°F

1,050 Amps

CCA at 0°F

880 Amps

CCA at -20°F

585 Amps

NOMINAL CAPACITY
Reserve Time

133 min

20 Hr Rate

64 Ah

10 Hr Rate

61 Ah

Internal Resistance

3.6 mΩ

Short Circuit Current

3,100 Amps
4 Year Full Replacement Warranty
NSB-AGM24
NSB-AGM24F
NSB-AGM27
NSB-AGM27F
NSB-AGM34
NSB-AGM34/78
NSB-AGM35
NSB-AGM48
NSB-AGM65
NSB-AGM78
NSB-AGM94R
3 Year Full Replacement Warranty
NSB-AGM24M
NSB-AGM27M
NSB-AGM31M
NSB-AGM34M
NSB-AGM65M
NSB-AGM31
SMS-AGM 8DK
SMS-AGM 24K
ELT-AGM24F
ELT-AGM27F
ELT-AGM34
ELT-AGM34/78
ELT-AGM35
ELT-AGM65
2 Year Full Replacement Warranty
SMS-AGM 80
SMS-AGM 220
SMS-AGM 400
SMS-AGM 480
A battery warranty is for manufacture defects in material and/or workmanship. Warranty does not apply to batteries that are severely discharged, have broken containers, covers, or terminals, have been overcharged or sulphated, or have been neglected or abused or are used in applications for which the battery is not designed.
The warranty covers the defective battery only. BatteryGuys.com is not responsible for any freight charges, installation charges, loss of time, or other consequential damage or cost incurred.
The warranty does not apply to batteries if their proprietary manufacturing code markings and/or serial numbers have been tampered with or removed.
If you feel you have a received a defective battery, please email us at support@batteryguys.com for instructions on how to proceed.
Customer Reviews
04/10/2020
Denis N.
United States
NorthStar NSB-AGM-34/78
corona v not used yet
02/09/2020
Justin S.
United States
Best battery I've ever owned
Bitchen battery turns that starter motor fast
09/10/2019
Orie P.
United States
North star battery
Has performed very well so far. I usually use optimas but they have not been lasting and have been weak
08/14/2019
Christopher E.
United States
Northstar AGM battery
Excellent quality of construction, pure lead, not lead alloy like Chinese copy cats, brass terminals, built-in handle and all specs., eg. CCA, reserve capacity outstanding. Well packaged! Even with obvious rough handling by shipper, the battery was not damaged.
North Star 34 rules
As a drag racer needing to go rounds with little time while running accessories the Northstar performed outstandingly Did not even have to charge between rounds Turned the starter faster than ever before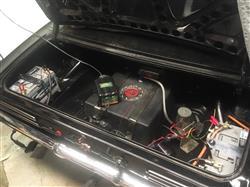 Thank you for taking the time to share your experience. We are so glad you are enjoying your new Northstar battery.